Cerakote is an extremely durable type of ceramic coating that we have been mastering for years. These customizable coatings provide corrosion resistance, chemical resistance, thermal stability, UV stability, and durability. Check out our available coating options today. 
Our stippling services give you the option to not only customize the visuals of your weapons but also provides increased grip to whatever part you choose to stipple. The process involves using a soldering iron or laser to burn dots (or other patterns) into the polymer of your gun, leaving behind a raised surface which enhances texture. Our laser engraving allows you to customize your weapons with any design or logo you wish, making a permanent impression.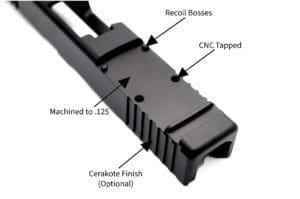 We offer custom optics Cuts and milling. We can cut any style of optics platform into your slide, we can even custom cut with your optic to provide an even tighter seamless fit. 
Our milling consists of threading barrels, rechambering, and modifying actions.